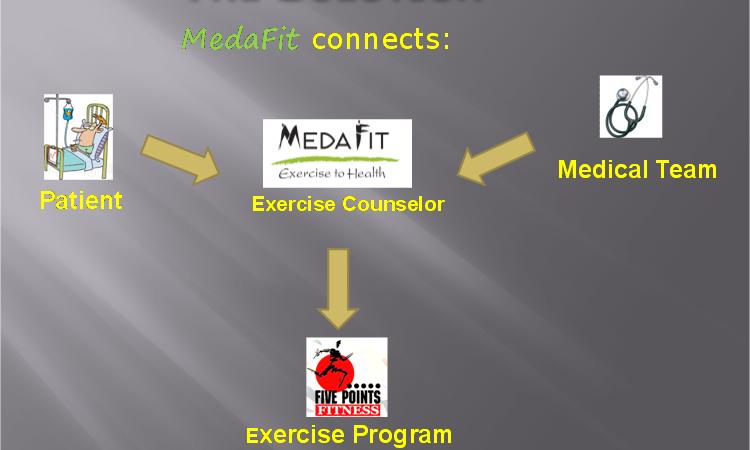 Exercise is medically recommended for many serious and chronic conditions; all too often patients are overwhelmed and there is no compliance - MedaFit takes that recommendation to the next level.

The MedaFit approach introduces the Exercise Counselor in a clinical setting to act as an intermediary between the patient, the medical team and the exercise program. The medical team refers to the Exercise Counselor, who makes an evaluation, creates an exercise prescription, refers the patient to a suitable club program or home-based routine, and assures compliance. This delivers a win-win - the medical team welcome a exercise specialist, the patient is more likely to exercise and compliance is higher.

We have successfully innovated the Exercise Counselor at UCSF Comprehensive Cancer Center, San Francisco providing a free consultation to all cancer patients (click here), as well as at Marin General in Greenbrae, California.

MedaFit also partners with health clubs to develop appropriate, accessible individual and group exercise programs and promotes the programs within the community.
Our program establishes a 'buddy system' data base of patient participants so that people of comparable ability living close to each other can exercise together and support each other.

The MedaFit model is financially self sustaining; it does not rely on philanthropic donations for its existence or for expansion, but creates economic profit for its health club partner by driving more members through the club. The health club pays MedaFit, a non-profit 501c3 corporation, a monthly referral fee used to pay the Exercise Counselor, to fund scholarships for those who cannot afford club membership, and to promote the MedaFit brand.

MedaFit addresses all serious and chronic conditions - not just cancer alone.